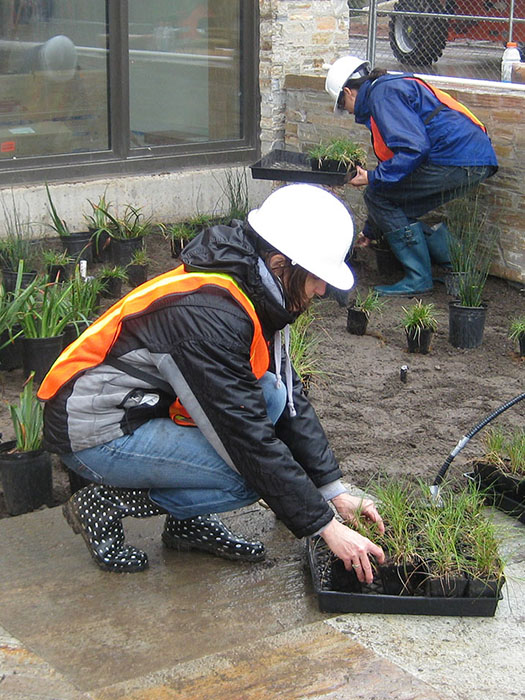 Joni L. Janecki, ASLA / President
Since founding her firm Joni L. Janecki & Associates in 1991, Joni has worked on projects ranging from large-scale land use and planning of community and campus landscapes to site-specific designs for public and private facilities. She prioritizes design as a collaborative, community-based process that maximizes place, program, and the potential for engagement with nature. Her goal is to create exterior spaces that invite participation and interaction. Joni is particularly skilled at successfully facilitating public workshops and presentations, coordinating multiple agencies, and meeting stringent environmental standards. Her talents also shine in her work with residential clients, for whom she produces elegant and sophisticated landscapes that respond to their unique needs and long-term plans while celebrating the beauty of native plants and sustainable design. Joni's insistence on gracefully advocating for the value of site and context in enduring design is a constant across her portfolio.
One of Joni's areas of expertise lies in the use of native, water conserving, low-maintenance plants found within ecological systems of the local and regional landscape. Her commitment to native and regionally-adapted plants preceded current popularity for sustainable design and she is a lifetime member of The California Native Plant Society. She has long complemented the careful selection of plant materials with innovative and applicable strategies for managing water storage and minimizing water use in the firm's projects. From reclaimed and recycled materials to Integrated Pest Management (IPM) methods and best management practices (BMPs) for roof and site run-off, Joni's work demonstrates an integrated and multi-tiered approach to sustainability. She has, moreover, extensive experience successfully meeting certification criteria for the Leadership in Energy and Environmental Design (LEED®) program of the U.S. Green Building Council.
Joni's philosophy hinges on recognizing herself, her work, and her company as part of the larger whole. It is never just about her project, but rather about the community, plants, animals, and water systems that surround it, about the people who use and maintain it, about future generations who will one day pass through it. While her landscape designs are fluid and flexible, reading as "natural" and "relaxed," Joni, herself, has stood firm over the course of her career. The principles she believes in—integrity, giving to her community, nurturing the natural world—color all her years of practice and each project she has touched.
Nicole Steel, RLA / Senior Associate
Nicole received her Bachelor of Landscape Architecture degree from California Polytechnic State University, San Luis Obispo, California in 2000 and joined JLJA shortly after. As a project manager, she has supervised projects in all phases including design, presentation graphics, preparation of Construction Documents and Specifications, construction detailing, and administration. Notably, Nicole has helped to shepherd many projects through local and state agencies, achieving approval on even controversial projects. She has successfully guided projects through the LEED certification process and has proven herself especially skilled at maintaining high levels of communication with team members and clients, thus ensuring an efficient and productive process. Nicole is particularly prized within the office for her remarkable patience, generosity in collaboration, and priceless sense of humor.
Georgia Leung, RLA / Senior Associate
Since joining JLJA in 2003, Georgia has cultivated a wide range of interests, from urban design to sustainable design and materials, which have contributed to her particularly discerning and inclusive view on the field of landscape architecture. She has applied this fresh perspective to a wide range of project sizes and types, from institutional and civic to private and residential. Georgia's project management responsibilities encompass conceptual design, presentation drawings, construction documents, and construction administration; she excels in completing projects on time and on budget. As Senior Associate, she supervises office-wide drawing production, coordinates work load, mentors newer staff members, and serves as an invaluable resource overall. Georgia received her Bachelors of Science degree in Landscape Architecture from the University of California, Davis with honors distinction. Highly valued for her strong graphic skills, technical knowledge, and problem-solving ability, Georgia brings a rigorous attention to detail and work ethic that reinforce JLJA's high standards.
Alyssa Zacharia, RLA / Project Manager
A graduate of the landscape architecture program at University of California, Davis, and a licensed landscape architect, Alyssa brings a polished set of design skills to JLJA. Her commitment to and pleasure in building collaborative relationships with clients, contractors, and design teams is fundamental to her success as a project manager. While particularly skilled with residential design, Alyssa's professional experience includes wetland mitigation and environmental restoration, as well as trail, streetscape, park, campus, master plan, and community outreach projects. Her love of plants – she grew up helping her parents install residential gardens in Santa Cruz – has made her an expert plantsperson. In addition to her impressive plant knowledge, Alyssa's valuable contributions to the JLJA fabric are her ability to develop effective design solutions and her unerring eye for design in the field.
Erica Drew, RLA / Landscape Architect
Working in the landscape design profession since 2000, Erica brings a well-rounded and extensive wealth of professional experience, from large-scale urban works and campuses to parks and residential projects. She earned a bachelor's degree in Landscape Architecture from UC Davis, where she received an American Society of Landscape Architects Merit Award for her student work, and spent time abroad studying landscape design in both Asia and Europe, winning first place at a landscape design competition held at Kyoto University. Her prior work with a design-build company strengthened her knowledge of construction and fine detailing, while JLJA's collaborative setting has expanded her creative range. Erica's current focus on high-end residential projects has refined her skills as a designer, enhanced her detailing talents via one-of-a-kind features, and built her confidence in shepherding projects through to completion. Erica is particularly prized for her unflappable response to unexpected situations and her ability to creatively resolve problems.
Miyuki Onnagawa, LEED AP / Project Manager
Miyuki was raised in Japan and moved to the United States for her education. She obtained her bachelor's degree in landscape architecture from Louisiana State University in 1999 and subsequently studied fine arts at California State University in Long Beach. A member of JLJA since 2008, Miyuki brings a vital technical expertise to the office. She occupies an important role of mentor to new draftspeople and is a wealth of knowledge and patience in relation to AutoCAD and file management. Credentialed as a LEED® AP, Miyuki is much appreciated for her ability to compile and complete complex construction documents, thereby assuring that JLJA's high standards are maintained. She, along with her German Shepherd Asuka, are currently undergoing arduous training for search-and-rescue certification.
Diane McClish / Design Associate
A Santa Cruz County native, Diane graduated with honors and received her AS Degree in Landscape Design from Cabrillo College in 2007 and has continued her education through the UC Berkeley Extension Certificate Program in Landscape Architecture. Since joining JLJA in 2007, Diane has assisted the office with all stages of project development, from conceptual design to installation, cultivating particular expertise in on-site construction observation. She is uniquely qualified and knowledgeable in sourcing native plants, selecting specimen trees, discovering unique landscape products, and identifying the advantages of distinct varieties of rock and stone. Diane's sustained love for learning makes her invaluable in the office, particularly when facing a challenge.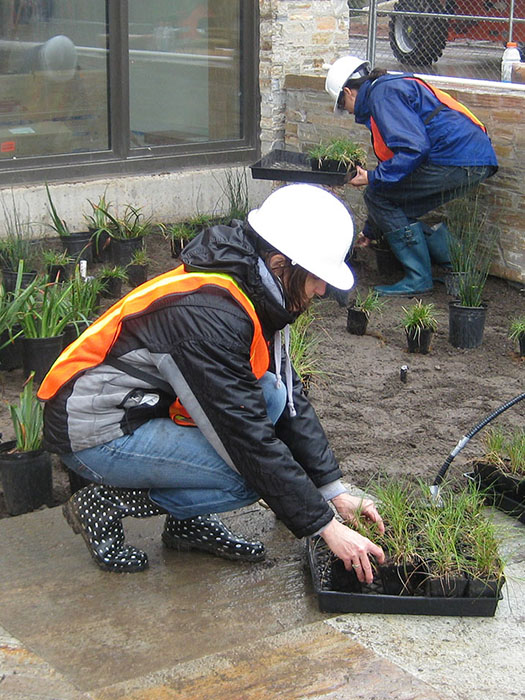 Olivia Waller / Design Associate
Graduating with honors from the University of Oregon's Bachelors in Landscape Architecture program in 2013, Olivia is particularly dedicated to sustainable urban design and design's potential to reveal a landscape's unique story. Her passion for drawing and painting informs her vision of landscape architecture as a tool with which to create aesthetically beautiful, livable, and functional spaces in our communities. A Santa Cruz native, Olivia combines her love for the Monterey Bay's diverse native habitats with her appreciation for landscapes experienced while travelling in Italy, Spain, Mexico, Costa Rica, Brazil, Canada, Thailand, Hong Kong, and Japan. JLJA particularly prizes her attention to detail, her ability to craft accurate and concise drawings, and her enthusiasm for collaboration. Olivia is currently studying to become a licensed landscape architect and will subsequently seek LEED® AP certification.
Paige Pedersen
Paige graduated from the Cal Poly San Luis Obispo Landscape Architecture program in 2015 and worked with several different firms before joining JLJA in 2017. Her curious and creative way of thinking, enthusiasm for innovative and sustainable design, and cheerful reliability have quickly made her a valued member of the JLJA crew. Paige has traveled extensively, including a study abroad program in Buenos Aires, a solo backpacking trip from Ecuador to Mexico and a design internship in Costa Rica; her appreciation for other cultures and new places informs her sensitive and perceptive design eye.
Joanne Hutson / Design Assistant
Born and raised in Santa Cruz, Joanne boasts an in-depth knowledge of Northern California plant communities, building materials, and design aesthetic. An avid surfer, she is uniquely intrigued by sustainable design's potential to create engaging outdoor spaces and connect people to nature, thereby promoting environmental awareness. Joanne earned her Associates Degree in Landscape Horticulture from Cabrillo College and is currently pursuing certification through the Landscape Architecture program at UC Berkeley Extension. A member of JLJA since 2012, she particularly enjoys participating in the collaborative process as projects develop from concept to construction. Joanne is highly valued for her drawing skills, attention to detail, and enthusiasm for seeing a project through to completion.
Anne Marie Hallal / Office Administrator
Anne Marie grew up in Santa Monica, California, but has also lived in Philadelphia, Mexico, Paris, Barcelona, and the beautiful Finger Lakes of New York State. While completing Master's degrees in Landscape Architecture and the History of Architecture and Urban Design at Cornell University, Anne Marie developed a deep commitment to the politics of sustainability and landscape design's potential to affect change, interests that she furthers in her work at JLJA. A member of the firm since 2008, she acts as liaison with new clients and other design professionals, prepares and reviews proposals, directs the firm's image, and coordinates day-to-day operations. Particularly appreciated for her editor's eye and writing abilities, Anne Marie's recent focus has been on photographing the firm's work in order to compellingly present each project's unique goals and achievements.
Ponce Abrahms / Finance Manager
A member of JLJA since 2000, Ponce has worked in bookkeeping and accounting for over 25 years. She manages the firm's billing and accounts receivables, plus all the human resources needs. Highly valued for her organizational skills, grace under fire, and steadfast cheerfulness, Ponce is the linchpin around which the office revolves.
Gracie and Lily Janecki
Our newest additions to JLJA, these two rascals excel at snuggles, pouncing, and all-around trouble-making. Mamma was a dachshund, but no one's sure about poppa, so it's a mystery how the sisters will turn out. Still picking up lots of tips at puppy training, Gracie and Lily redefine "puppy love" on a daily basis and bring a unique form of canine therapy to the office.
Asuka Onnagawa
Asuka, whose name means fragrance of tomorrow in Japanese, is a lovable bundle of energy who seeks out belly rubs at every opportunity. Her silliness and antics at walk time belie her deep intelligence. She and her person, Miyuki, are undergoing extensive training to be certified as a search-and-rescue team; the two of them will one day put Asuka's energy and intelligence to work locating missing people or those in trouble.